Wedding venues are as unique to brides and grooms, as their entertainment choices are. How brides and grooms choose a wedding venue is usually as unique and personal as their choice in wedding entertainment. The location needs to match their personality and unique situations for their finances and their guest lists.
As a veteran entertainment director and DJ for weddings in Boston and New England for over 20 years, we have the benefit and experience of performing repeatedly in almost all major Boston area wedding reception venues.
Types of Wedding Reception Venues
To determine our Top 5 Boston area wedding reception list we first categorized the most popular types of venues for weddings. The 5 types of Boston wedding venues are: Hotels, Historic, Country Clubs, Beach/Water and Restaurants.
Next we looked at each venue in each category based on factors that impact a successful wedding the most such as quality of food, room layout and acoustics to accommodate guests and encourage dancing, staff skill and attitude, and of course, that overall WOW factor.
The Winners


Our top pick for a Hotel style wedding venue in New England for 2014 is the Fairmont Copley Plaza, Boston MA. The Fairmount Copley Plaza is that rare mix of modern day hotel conveniences (just completed a $20 million+ renovation and restoration) while maintaining its old world elegance and wow location. It doesn't matter what size wedding reception you have, the Copley Plaza has a stunning room to fit. Larger parties in the Grand Ballroom or classic Oval Room and The Venetian Room and St. James Room for smaller receptions and ceremonies. The food and staff are all Five Star rated and bring back a time where service means something again. The hotel has 383 lavish guest rooms to accommodate your guests, with many other hotel options nearby if needed.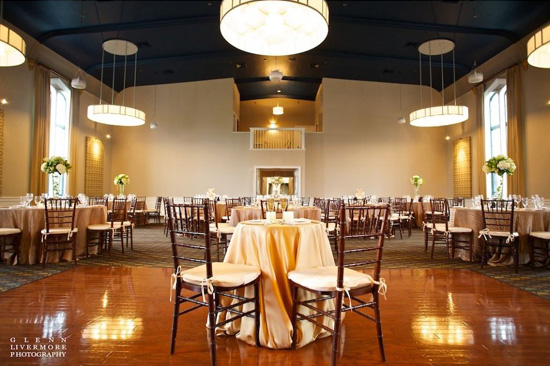 In the Historic style wedding venue our top choice for 2014 is: Steeple Hall at the Mission Oak Grill, Newburyport MA. The Steeple Hall at Mission Oak Grill gives new meaning to "Going to the Chapel" for your wedding. After just completing a renovation and restoration while still maintaining its charm and historic appeal, Chef and owner Wellington Augusto has raised the bar again at this increasingly popular Newburyport wedding destination. With the Mission Oak Grill located directly below, you can be assured that food quality is 5 star as they are focused on food 7 days a week. Service level of their wedding team is top notch, accommodating and keep their guests needs top priority. The main room is large enough for weddings of 180 guests, no other venue in Newburyport can handle weddings this large. And their dance floor with floor to ceiling mirror is the right size to encourage energy and excitement. And let's not forget the perfect balcony location for a Bride to through her bouquet from.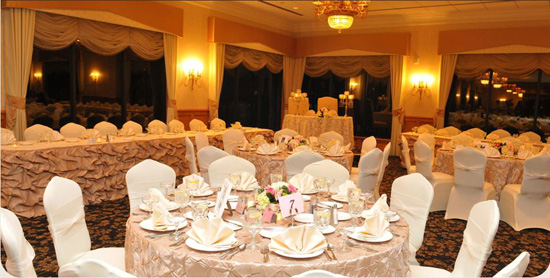 Want your wedding at a Country Club? Our 2014 pick is: Andover Country Club, Andover MA.  For over 85 years the Andover Country Club with its impeccable venue and setting has been serving weddings in the Merrimack Valley. And with 4 different room configurations and locations for ceremony, the country club can accommodate a wide range of wedding sizes. Smaller weddings in the Trumpeters for up to 180. And by combining the Canterbury and Andover rooms up to 660 people. Food quality is always consistent, as is the professionalism of their staff and long standing wedding coordinators. Rooms have been recently updated as well as the grounds. They even have 24 guest rooms which is not typical in a country club wedding setting.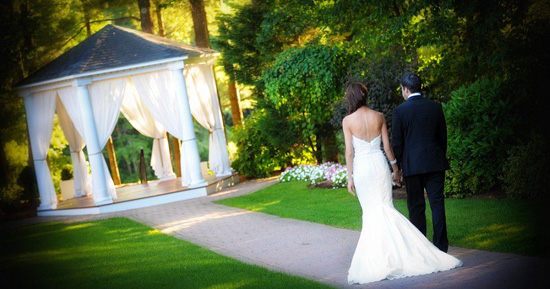 Looking to get married on or near water in 2014? Our pick is: Lakeview Pavillion, Foxboro MA. Under the current ownership of sisters Anastasia Tsoumbanos and Natalia Kapourelakos since 1988, the LVP has been building upon itself year after year and is now as close to perfection as a wedding venue can be. With an incredible location on the banks of Lakeview Pond it is one of the top wedding venues just south-west of Boston. Capable of handling weddings of up to 500 people in the Lakehouse Ballroom, with inside and outside areas for ceremonies and cocktails, and a contemporary and chic style that is still elegant and romantic.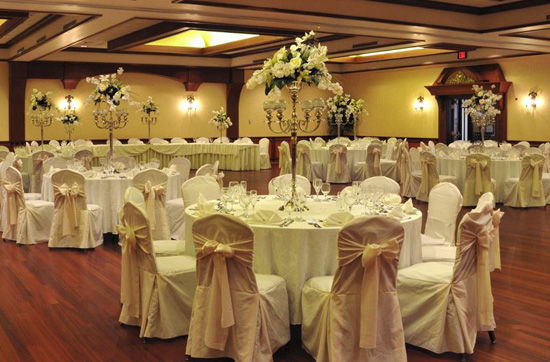 Which restaurant is our top pick for weddings in 2014? Cafe Escadrille, Burlington MA. After completing an over $10 million renovation the Cafe Escadrille immediately became the north of Boston go to location for classic and elegant weddings. The updated facilities can handle parties as small as 50 in the Winter Gardens room all the way up to 280 in their Grand Ballroom, with a warm and inviting Parlor lounge with grand fireplace. Beyond decor, which will make you feel you've been transported to Europe, the Escadrille truly excels in quality of food. White glove service with a genuinely caring staff is led by industry veteran Mario Hache, president of Skal International Boston. Mario and his team will have you feeling like your part of one big happy family, and you'll be coming back for more.