If you're looking for a site for your wedding reception that's outside the traditional wedding hall, consider one of the unique historic wedding venues North of Boston. Whether you choose a mansion or an estate, a historic hotel or inn, the one of a kind ambiance will be the perfect piece of history to host your wedding guests.
 1. Castle Hill on the Crane Estate Ipswich MA

  The Crane Estate was owned by Chicago industrialist Richard T. Crane, Jr. in 1910 as his summer retreat. In 1928 he built a grand 59 room mansion, designed by world renowned architect David Adler.
The Crane Estate has the most amazing scenery for your wedding reception, including miles of barrier beach, and a beautiful hilltop mansion. Also, there is an Inn that has 10 rooms for you and your guests to stay in.
The historic wedding venues at the Crane Estate include:
The Great House on Castle Hill – an elegant seaside mansion set on a hill top overlooking Crane Beach. Accommodations for 200 guests inside, and tenting that will seat up to 320 guests
Steep Hill Beach – a beachy setting for a seaside ceremony and reception overlooking the Atlantic. Accommodations for 200 people per lawn area, and there are two lawns to choose from.
Casino Complex – for an intimate setting at an Italian style villa on the Grand Allee. Accommodates up to 80 guests inside, with a lawn area that gives additional space for mingling or games.
The Barn – rustic Italian style barn setting, with terra-cotta walls, a post-and-beam interior, wood floors, and a tiled roof. Accommodates 140 people.
2. Stevens Estate North Andover MA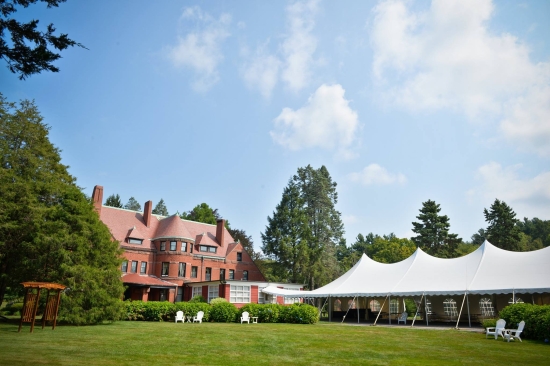 A historic mansion with 153 surrounded by private acres of land. The Stevens Estate was built in 1886 by Moses T. Stevens, a prosperous owner of textile mills and a member of one of the founding families of North Andover. Today it's owned by the Town of North Andover and is one of the few remaining grand estates of the Victorian era.
The Main House features formal rooms furnished with rich oak paneling, intricate wood carvings, imported marble fireplaces, and an elaborate stained glass window. The accommodations are up to 220 guests on the tented cobblestone terrace, and up to 180 inside the stately mansion. Weddings include use of the Bridal Suite during the event. They have additional guest rooms which may be reserved for an overnight stay.
3. Hawthorne Hotel Salem MA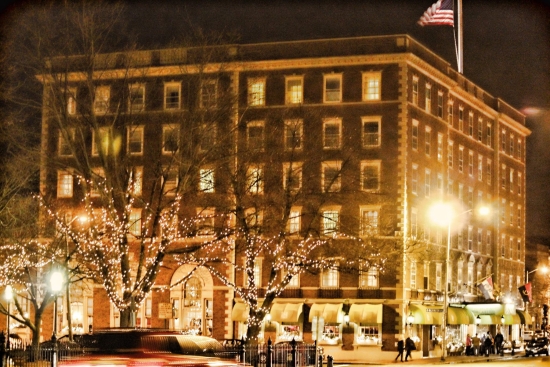 The Hawthorne Hotel is located in historic Salem, Massachusetts, and was established in 1925. The venue has hosted many dignitaries and celebrities over the years, including
newsman Walter Cronkite, actress Bette Davis, General Colin Powell, and both President George Bush and First Lady Barbara Bush. Television shows have also been filmed on property, including Bewitched, What Not to Wear and Ghost Hunters.
Today, the Hawthorne Hotel in Salem, MA hosts weddings, business meetings, social events and vacationers.
Historic Wedding Venues at the Hawthorne Hotel include:
The Ballroom – a Grand Ballroom which accommodates 190 guests. The 19 foot ceilings make an elegant dramatic effect for your wedding.
The Essex Room – Great for mid-sized weddings. Combining style, efficiency and unmatched comfort, the Essex Room is perfect for mid-sized weddings.
The Pickman Room – Just right for an intimate rehearsal dinner or reception.
4. Andover Inn Andover MA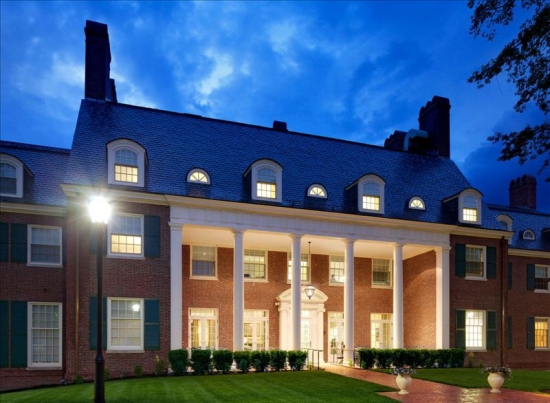 The Andover Inn was built in 1930 on the 500-acre campus of Phillips Academy, one of the oldest private secondary boarding schools in the United States. The wedding venue has 3 private function rooms with an elegant 100 seat dining room. Also, a tent in the garden accomodates 175 people for a beautiful outdoor wedding from May through October. There are 30 guest rooms for you and your guests to stay in.
Historic Wedding Venues at the Andover Inn include:
Stevens Room – 702 sq ft, accommodates 50
Phillips Room – 788 sq ft, accommodates 50
Boardroom – 230 sq ft, accommodates 10
5. Hellenic Center Ipswich MA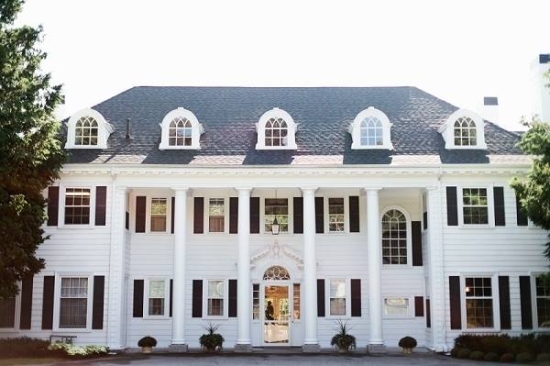 A 100-year-old Georgian-style mansion that sits at the end of a long, private drive. The venue has a beautifully landscaped sprawling lawn for an outdoor ceremony, cocktail hour or tented reception. The mansion's ballroom holds up to 250 guests in one room and has hardwood floors, crystal chandeliers, two fireplaces, and French doors that overlook sculpted gardens. Upstairs is a terraced veranda used for cocktail receptions, photos, or an outdoor ceremony.