Wedding at Steeple Hall – Mission Oak Grill in Newburyport
Katelyn and Michael's wedding was held at the Steeple Hall at Mission Oak Grill in Newburyport, one of our all time favorite wedding venues.
The Steeple Hall has gorgeous high cathedral ceilings, a perfect setting for our starry night experience that adds a constellation nebula with thousands of stars projected on the ceiling and walls that move slowly, giving the illusion of being outside. Katelyn and Michael took full advantage of both our starry night experience and uplighting package, creating an elegant and unique ambiance.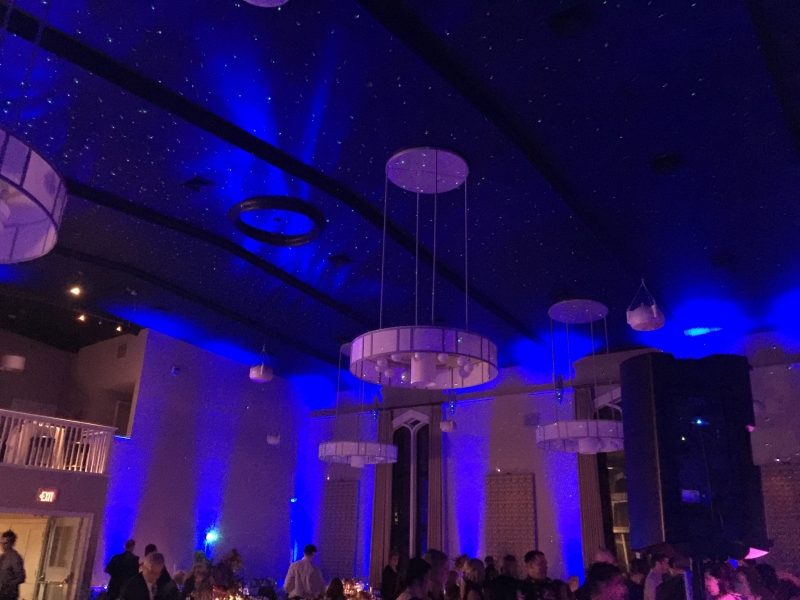 Katelyn and Michael envisioned a theme for their night as romantic, planned and entertaining. 'Romantic' meaning the atmosphere and mood was personalized for them, 'planned' meaning that it really flowed well but not a thrown together last minute feel, and 'entertaining' meaning great dancing, great memories and a wow factor. They chose the starry night experience for the wow factor, and the uplighting to really add that pop.
The bride looked beautiful, she was beaming with excitement and their young daughter Ella was an adorable flower girl.
There were so many great moments that night. My favorite was when the best man Nick, a 5 year Sargent in the Marine Corps and from North Carolina, gave an opening toast. We played "Proud to be an American" to salute all of the veterans during dinner to respect their service.
Another fun moment was the Anniversary Waltz, which was special for the bride and groom. This activity finds out which guests have been married the longest. First, we ask all married couples to the dance floor, and play a great song, in this case it was "Thinking Out Loud" by Ed Sheeran. We announce all couples who have been together less than 5 years to move to the side of the dance floor. After another minute, we repeat this with 10 years and so on until there is only one couple left, the one who has been together the longest. Then we ask that couple what the secret of marriage is, how to get along, and how to stay happily married. Of course the old adage "never go to bed angry" as the best piece of advice.
We had all the guests get together for a nice group photo on the dance floor from the balcony. The Steeple Hall has a beautiful balcony perfect for this and also to through a bouquet from.
We played an awesome dinner time dance set, with guests dancing in between courses keeping the excitement going! The dance floor was full of energy all night, a lot of great upbeat music, and a good mix from the 50's all the way to today's hits.
Working with Ashleigh and Megan and the team at Steeple Hall is always a pleasure. These ladies really have the hospitality mindset, and know how to treat their guests and the other professionals involved. This really makes a difference in our industry, because when professionals are treated with respect as if they were a guest as well, they perform better for the overall event which reflects well on everyone!  We've worked with them for many years and they also have trust and confidence in us, that we can keep a smooth flowing wedding throughout the night without a hitch.
KATELYN & MICHAEL'S MUSICAL SELECTIONS – BOSTON WEDDING DJ RON CARPENITO AT STEEPLE HALL MISSION OAK GRILL NEWBURYPORT, MA
Grand Entrance (Wedding Party): Happy – Pharrel Williams
Grand Entrance (Bride & Groom): Marry Me – Bruno Mars
First Dance: Thomas Rhett – Die a Happy Man
Cake Cutting: How Sweet it is – Michael Buble
Anniversary Waltz: Thinking Out Loud – Ed Sheeran
Dancing: Mix of Music for All
Last Dance: Lucky – Jason Mraz & Colbie Caillat
Boston Wedding DJ & Host: DJ Ron Carpenito Entertainment with assistant Justin
Venue: Steeple Hall, Mission Oak Grill Newburyport, MA
Photography: Pixel Perfection
Ron Carpenito
2018-08-23T23:53:04+00:00
Heartfelt Moments, Sizzling Hot Dance Floor & a Menu to Please Everyone = Perfect Reception What a night for Mike and Maria! The bridal party [...]
Ron Carpenito
2023-08-07T17:54:00+00:00
Wedding at Steeple Hall - Mission Oak Grill in Newburyport Katelyn and Michael's wedding was held at the Steeple Hall at Mission Oak Grill in [...]
Ron Carpenito
2023-08-07T17:54:01+00:00
Wedding at the Mass Audubon Habitat in Belmont, MA Mary & Ali's wedding was held at the Mass Audubon Habitat in Belmont, a 90 acre [...]